PSG Grant Vendor
Singapore companies can now tap into Productivity Solutions Grant (PSG) and receive up to 70% funding for the purchase of pre-approved productivity solutions such as accounting, inventory, payroll, leave, expense management, etc.
Our company, IT Infinity Pte Ltd, is a PSG grant vendor for the accounting solution SAGE 300 ERP.
Formerly known as ACCPAC accounting, the SAGE 300 ERP solution is a comprehensive and scalable financial accounting solution that enables businesses to expand beyond their basic accounting needs and move into enterprise resource planning such as inventory, asset management and many others. Pre-Approved Solutions
SAGE 300 ERP
The SAGE 300 ERP package has been pre-approved for up to 70% funding using the PSG grant. This means that when companies purchase SAGE 300 ERP through IT Infinity, they will be able to save substantially, up to 70% of the qualifying costs.
The pre-approved package comes with a total of eight modules consisting of:
System Manager module
General Ledger module
Accounts Receivable module
Account Payable module
Inventory Control module
Order Entry module
Purchase Order module
Multi-currency module
These modules provide companies with powerful tools to track their financials end-to-end, improve reporting and compliance and provide better business intelligence for a greater ROI.
---
Pre-Approved funding under PSG Grant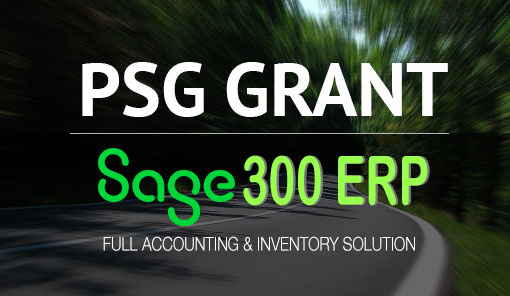 Grant Criteria
There are three criteria for businesses to qualify for PSG grant.
Most companies in Singapore should be able to fulfill them, namely:
The business is registered and operating in Singapore
The pre-approved solutions purchased must be used in Singapore
The business has a minimum of 30% local shareholding (for selected solutions only)
To find out more about how your company can tap the PSG grant to implement a robust accounting system using SAGE 300 ERP, please contact us.