PSG Grant Vendor
Our company, IT Infinity Pte Ltd, is a pre-qualified PSG grant vendor for enterprise accounting solution Sage 300 ERP.
For purchase of Sage 300 ERP, companies can claim 80% for up to $30,000 qualifying costs under Productivity Solutions Grant (PSG).
Eligible employers for SkillsFuture Enterprise Credit (SFEC) will receive a one-off $10,000 credit to cover up to 90% of the out of pocket expenses on qualifying costs.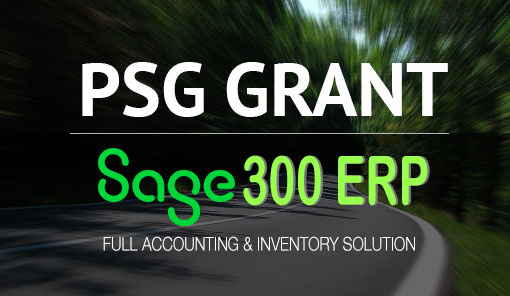 Sage 300 ERP
Formerly known as ACCPAC accounting, the Sage 300 ERP solution is a comprehensive and scalable financial accounting solution that enables businesses to expand beyond their basic accounting needs and move into enterprise resource planning such as inventory, asset management and many others.
The Sage 300 ERP package has been pre-approved under PSG. It comes with a total of eight modules consisting of:
System Manager module
General Ledger module
Accounts Receivable module
Account Payable module
Inventory Control module
Order Entry module
Purchase Order module
Multi-currency module
These modules provide companies with powerful tools to track their financials end-to-end, improve reporting and compliance and provide better business intelligence for a greater ROI.
InvoiceNow
Sage 300 also supports InvoiceNow – a nationwide E-invoicing method that speeds up invoicing and payments between companies.
Enquire Now
Contact us to find out more about government grants or to request for software demonstration.
Are you eligible?
Companies can apply for PSG if they meet the following criteria:
Registered and operating in Singapore
Purchase/lease/subscription of the IT solutions or equipment must be used in Singapore
Have a minimum of 30% local shareholding (for selected solutions only)
Each company has a grant cap of S$30,000 per financial year for adopting pre-approved IT solutions under the PSG scheme.
To qualify for SFEC, companies must meet the following criteria:
Have contributed at least S$750 Skills Development Levy over the period*
Have employed at least three Singapore Citizens (SCs) or Permanent Residents (PRs) every month over the same period*
Have not been qualified at any of the earlier periods*
*Qualifying Periods:
1 April 2019 – 31 March 2020
1 July 2019 – 30 June 2020
1 October 2019 – 30 September 2020
1 January 2020 – 31 December 2020