Web-based Time Attendance System
Track employee attendance and automatically compute payroll from attendance records.
Time Attendance Software
is a solution that allows companies to capture the TIME IN & TIME OUT of their employees. The attendance information can be useful for HR managers where staff performance and benefits can be reviewed.
The attendance information can be uploaded into the Opensoft Payroll Software to compute salary and overtime components, thus speeding up payroll processing.
eOpensoft web-based Time Attendance System is a cloud solution where attendance data captured by the biometric devices (these are fingerprint readers where employees scan their fingerprints to perform a CLOCK IN and CLOCK OUT action) are being uploaded to a central server.
Staff attendance information can be accessed, tracked and analysed on a real-time basis. As a result, company management can have powerful insights of the workforce productivity.
eOpensoft Time Attendance
also known as web-based Time Attendance and eAttendance
The
eOpensoft Time Attendance System
is customised for Singapore SME companies and complies with existing MOM labour rules regarding payroll computation.
Features:
Generate attendance report by department level and individual employee basis
Highlight instances where working hours has breached labour regulations
Query by date and period to view lateness history of employee
Generate report showing working hours of all staff
Generate staff movement report
Tally attendance data with staff leave application (require eLeave Module)

and so on.
---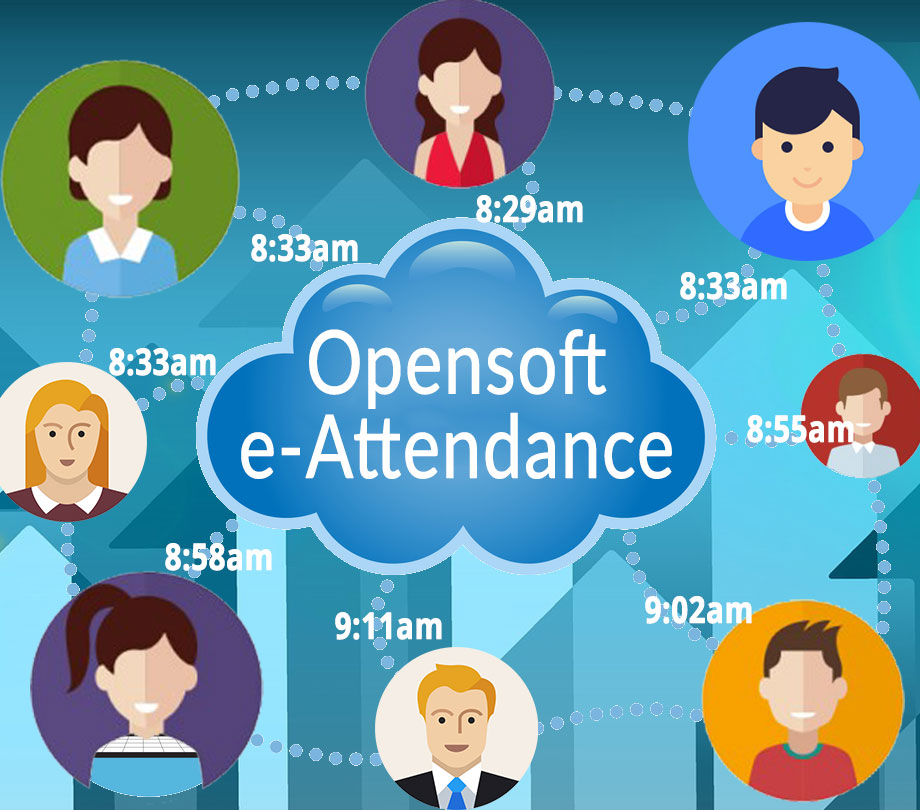 Grants for Supported Solutions
Attractive grants are available to assist companies to implement supporting solutions such as Payroll and Leave Management that integrate with Time and Attendance System.
For details, please contact us using the form below and we'll get back to you shortly.
* All fields are required.
Benefits of eOpensoft Solutions
eOpensoft is a suite of web-based productivity solutions comprises Time Attendance, Rostering and TimeSheet. These services are also known as eAttendance, eRoster and eTimeSheet respectively. Being WEB BASED means that the time attendance and staff scheduling information are accessible anytime anywhere over the web.
eOpensoft Solutions are ideal for companies that wish to track employees at multiple locations, branches or outlets. Having web-based access to time and attendance, duty roster and timesheet data greatly improves the speed and accuracy of data collection.
The data collected from the multiple locations are instantly accessible by the head office. This cuts down a lot of unnecessary paperwork, costs and human errors, and speed up decision making at the head office.
Furthermore, at IT Infinity, we offer customers dedicated help desk support. Our support engineers are based in Singapore so they will be able to quickly assist customers. eOpensoft Solutions are compliant with Singapore government agencies and legislative requirements.
Finally, eOpensoft Solutions are secure. Data is encrypted end-to-end using industry-standard SSL encryption, the same technology that bank use for securing online banking.